MADE IN USA!
FREE Delivery & Installation
Metal Garages
We Accept Visa, Mastercard, Discover & American Express
Metal Carports
Affordable - Professional
Guaranteed Work - Insured
Metal Buildings
The most important aspect of metal as a building material is the great flexibility of design.
Metal Barns
A metal Barn gives your livestock and equipment the shelter it needs.
Steel Carports
Protect all your vehicles... cars, trucks, RVs, equipment, boats, jet skis and more...
Metal Building Prices Have Come A Long Way Baby!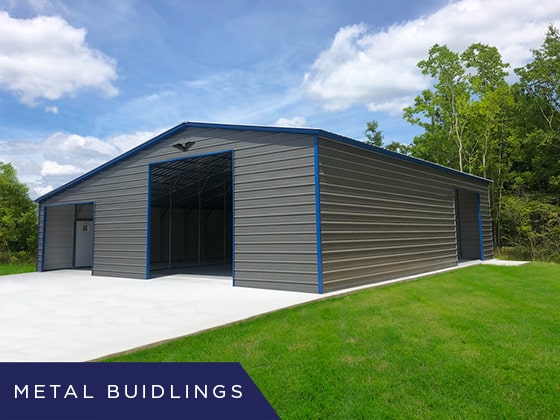 Steel is easily one of the strongest building materials a person can buy, which means that your building will be made to last.
Based on this fact, steel construction gives building owners peace of mind, as you can sleep easy knowing that not even an endless army of "Big Bad Wolves" can muster up enough power to "blow your house in!" Metal structures are significantly unaffected by temperature, weather, or climate variations, which makes them a perfect choice in almost any geographic location.
By the 1800s, steel became increasingly common for portable housing that was especially useful for the worker class, the gold rush workers and pioneers, and all mobile workers in the era of the industrial steel revolution. During the gold rush in the late nineteenth century, a "portable iron house" was developed, and hundreds were sold to the men who were seeking to strike it rich with gold.
Before World War II, large metal facilities were used as storage by the oil industry. They looked like huge oil drums that had been sliced in half and laid on their side. This was the forerunner of the arch-shaped building now known as the Quonset hut. During the war, these huts were used as barracks, hospitals, and even ammunition storage depots.
Early steel-type buildings were made of galvanized or corrugated metal.
Post-war these huts were sold off to the general civilian population for $1000 each. To this day these are widely used as warehouses, outposts, and even for residential purposes. In areas such as Alaska and the Polar, Regions' homes are often made of steel. With proper thermal insulation, electrical wiring, and interiors these buildings fulfill all the demands of an ordinary family.
The popularity of steel buildings has grown exponentially in the coming years due to the several advantages these buildings offer over traditional wood and concrete houses. Resistance to termites and insects, sturdiness, high load-bearing capacity, easy assembly, and flexible design options are just a few advantages of metal-built buildings over traditional buildings.
Steel Building Prices Are Lower
In this day and age, more and more homes are made of metal. This is smart for the home buyer. Steel does not wear away like brick and does not rot like wood. Rotting wood structures due to moisture have to be torn down. Buildings and homes made of metal are resistant to insects. Termites and other insects that like to eat wood cannot damage the structural integrity of the steel.
And, you have all the other aforementioned benefits of steel. While pre-engineered buildings can be adapted to suit a wide variety of structural applications, the greatest economy will be realized when utilizing standard details. An efficiently designed pre-engineered building can be lighter than conventional buildings by up to 30%. Lighter weight equates to less steel and potential price savings in the structural framework. It's a fact: steel building prices are just much lower on average than conventional structures.
First, you must know what you need. A metal-made building is not a complex purchase as long as you take in a few of the considerations involved, such as budget, the size, and the intended use of the building. You are always well advised to do some price shopping. When comparing prices between suppliers, make sure you are comparing buildings with the exact same specifications!
Many of these types of buildings look alike, but prices vary widely and usually with good reason. Some manufacturers use cheaper components, thinner gauge steel, or offer fewer features than others.
If price is your main consideration, some metal building prices that are offered include excellent discounts on prefab buildings. Obviously, we like to sell these buildings at the best possible price to move, so the potential for a great deal is quite high, sometimes as much as 25% off a competitor's price. Our custom buildings are designed and engineered to your exact requirements.
With advances in computer design and new materials for customizing a project, prices have come way, way down and our designs have become popular in almost all sectors of new construction.
You have undoubtedly been in many buildings, such as schools, churches, strip malls, or fast food restaurants without ever guessing they were steel-based. Today's modern steel buildings can look just about any way imaginable. Metal exteriors can be smooth, curved, or combined with EIFS, brick, glass, masonry, natural or faux stone finishes, and even concrete tilt walls to create whatever style is required.
The flexibility and durability of steel structures make them ideal in the industrial sector. Warehouses, manufacturing facilities, generator buildings, and factories: these are some of the industrial applications for steel construction. Industrial structures often utilize top running cranes, underhung cranes, monorails, jib cranes, and gantry cranes. Steel building prices can meet almost any kind of need and budget.
Environmentally Friendly Steel
Steel is 66% recyclable! As environmental friendliness is a tremendous concern for many of us, this makes a truly compelling argument for going this route. In fact, through an increase in the implementation of metal structures rather than wooden ones, less of our own natural resources will be used up, and we can keep our planet clean for our children and grandchildren.
A steel building is a metal structure fabricated with steel for internal support and for exterior cladding, as opposed to steel framed buildings which generally use other materials for floors, walls, and external envelopes. Steel-made buildings are used for a variety of purposes including storage, workspaces, and living accommodation.
They are classified into specific types depending on how they are used.
All of these energy savings and earth-friendly aspects can really make a difference to the environment, particularly when you consider the scale of a large building. So if you're in the market for a building then consider some earth-friendly options!
So call metal building prices Dallas TX and see the designs that we offer and save today.
Dallas, Arlington Park, Audelia, Bent Tree, Bluff View, Devonshire, Greenway Parks, Hamilton Park, Koreatown, Melshire Estates, North Park, Meadow Glen, Midway Crossing, Midway Hills, Midway Hollow, Northwood Hills, Park Forest, Platinum Corridor, Preston Center, Preston Highlands, Preston Hollow, Stoney Crooks, Renner, Stemmons Corridor, Vickery Meadows, Webb Chapel, Carrollton, Bonton, The Cedars, 357 Dixon Circle, Lagow Park, Mildred Dunn Park, Exposition Park, Fair Park, Hampton Terrance, Joppa, Queen City, Rose Garden, St. Phillips, 44 Oakland, Turner Courts, Park Row, Baylor/Meadows, Belmont, Bryan Place, Buckner Terrace, Casa Linda Estates, Cochran Heights, Casa View, Claremont, Carruth Terrace, Deep Ellum, East Grand, Eastwood, Forest Hills, Gaston Park, Greenland Hills, Addison, Balch Springs, Carrollton, Cedar Hill, Cockrell Hill, Combine, Coppell, DeSoto, Duncanville, Farmers Branch, Ferris, Flower Mound, Garland, Glenn Heights, Grand Prairie, Grapevine, Highland Park, Hutchins, Irving, Lancaster, Lewisville, Mesquite, Ovilla, Richardson, Rowlett, Sachse, Seagoville, Sunnyvale, University Park, Wilmer, Wylie, Hilltop, Hollywood Heights, Metro Dallas, Lakewood, Lakewood Heights, Lakewood Trails, Frazier courts, Lochwood, Lower Greenville, Old East Dallas, Junius Heights, Munger Place, Swiss Avenue, Old Lake Highlands, Parkdale Heights, Ridgewood Park, Santa Monica, Scyene, Vickery Place, White Rock, Wilshire Heights, Cross Hampton, Cross Westmoreland, Commerce Heights, Colonia Tepeyac, Eagle Ford, Fish Trap Projects, Greenleaf Village, La L'aceate, La Bajada, La Estrella, Dallas Texas, La Loma, La Mexicanita, La Reunion, Lake West, Ledbetter Gardens, Los Altos, Muncie, Rupert Circle Projects, Western heights, Westmoreland Heights, 75001, 75006, 75007, 75019, 75032, 75039, 75041, 75043, 75050, 75051, 75052, 75060, 75061, 75062, 75063, 75075, 75080, 75081, 75087, 75088, 75089, 75093, 75098, 75104, 75115, 75116, 75126, 75134, 75141, 75149, 75150, 75159, 75166, 75182, 75201, 75202, 75203, 75204, 75205, 75206, 75207, 75208, 75209, 75210, 75211, 75212, 75214, 75215, 75216, 75217, 75218, 75219, 75220, 75223, 75224, 75225, 75226, 75227, 75228, 75229, 75230, 75231, 75232, 75233, 75234, 75235, 75236, 75237, 75238, 75240, 75241, 75243, 75244, 75246, 75247, 75248, 75249, 75251, 75252, 75253, 75254, 75270, 75287, 75390, 75019, 75039, 75043, 75048, 75050, 75051, 75060, 75062, 75081, 75089, 75098, 75104, 75125, 75134, 75141, 75146, 75149, 75154, 75159, 75172, 75181, 75182, 75217, 75232, 75241, 75247, 75253, 75001, 75006, 75248, 75254, 75149, 75180, 75181, 75217, 75253, 75001, 75006, 75007, 75019, 75234, 75287, 75104, 75115, 75137, 75154, 75249, 75211, 75159, 75019, 75063, 75067, 75001, 75006, 75019, 75039, 75041, 75043, 75051, 75052, 75060, 75061, 75062, 75063, 75080, 75081, 75088, 75089, 75104, 75115, 75116, 75134, 75137, 75141, 75149, 75150, 75159, 75180, 75182, 75201, 75202, 75203, 75204, 75205, 75206, 75207, 75208, 75209, 75210, 75211, 75212, 75214, 75215, 75216, 75217, 75218, 75219, 75220, 75223, 75224, 75225, 75226, 75227, 75228, 75229, 75230, 75231, 75232, 75233, 75234, 75235, 75236, 75237, 75238, 75240, 75241, 75243, 75244, 75246, 75247, 75248, 75249, 75251, 75252, 75253, 75254, 75270, 75287, 75115, 75137, 75237, 75104, 75115, 75116, 75137, 75236, 75237, 75006, 75229, 75234, 75240, 75244, 75254, 75125, 75146, 75019, 75040, 75041, 75042, 75043, 75044, 75048, 75089, 75098, 75150, 75182, 75218, 75228, 75238, 75243, 75154, 75050, 75051, 75052, 75060, 75104, 75211, 75212, 75249, 75019, 75038, 75204, 75205, 75209, 75219, 75141, 75172, 75241, 75019, 75038, 75039, 75050, 75060, 75061, 75062, 75063, 75220, 75229, 75134, 75146, 75241, 75019, 75067, 75043, 75149, 75150, 75180, 75181, 75182, 75227, 75228, 75253, 75104, 75154, 75044, 75080, 75081, 75082, 75240, 75243, 75088, 75089, 75098, 75040, 75044, 75048, 75098, 75159, 75253, 75150, 75181, 75182, 75205, 75206, 75225, 75125, 75134, 75141, 75146, 75172, 75048, 75098
FREE!
Delivery & Installation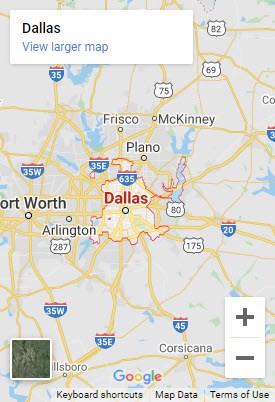 Monday: 9am-6pm
Tuesday: 9am-6pm
Wednesday: 9am-6pm
Thursday: 9am-6pm
Friday: 9am-6pm
Saturday: Closed
Sunday: Closed
Cashiers Check, Money Order, Visa, MasterCard, Discover, American Express